Longacre of Appomattox B&B (Review)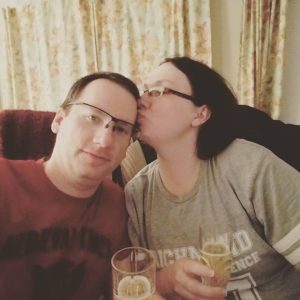 Our 17th anniversary was on the 19th of January. Sometimes I can't believe it has been that long but other times it seems like it has been way longer.  My husband and I have known each other since we were 15. He is my best friend and I am so happy I get to spend eternity with him.
So we really are terrible at planning for our anniversary.  I asked people to make suggestions for a Bed & Breakfast to go to.  (Sorry friends we couldn't afford the places that you mentioned.) So doing a little research of my own I found a beautiful place in Appomattox, Virginia.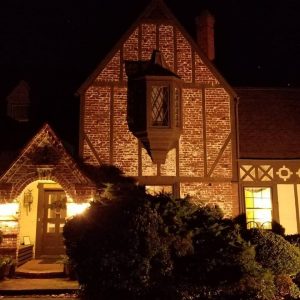 This was our view when we arrived Friday night.  The cost was under $100 a night and we stayed for 3 nights.  Longacre is run by Dana and her sister. They also own a hotel that is near the B&B.  Their mother used to run it but she retired and they didn't want to give up on it.
So one of the first things I noticed on some reviews was how breakfast was done.  Really? This is a woman trying to keep a business running that her mom owned and trying to run a hotel at the same time.  Sometimes you should give people some slack and find out what is going on.  Back to breakfast…When you wake up there are many things to choose from.  You are not having a breakfast cooked on the spot.  (I am pretty sure this also cuts down on the cost of this B&B.) Our first morning there we had doughnut holes, fresh fruit, muffins, yogurt, cereal, bagels, toast, orange juice and apple juice. They always had it where you could get tea or coffee. (We don't drink either.) Or you could fill up your water bottle with cold water.  Not bad I think for a breakfast.
Now let's talk about the room that we stayed in.  See in the picture above there is a door?  Well you go through that and then go through a dinning room.  Right off the dinning room was where our room was.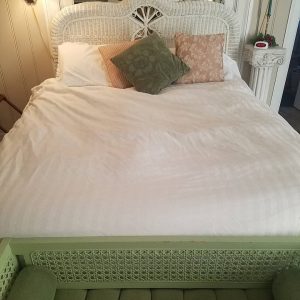 Our room was The Magnolia Room.  It was a queen size bed that had a little bench at the end of it.  The bathroom was just a basic bathroom with a normal tub and shower combo.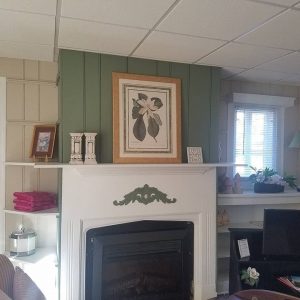 We had a gas fireplace in our room.  That was so pretty to have on at night.  Not going to lie we had a time figuring out how to turn it on.  It was simple…open the thing above the glass and push buttons.  I won't go into all the trouble we had lol.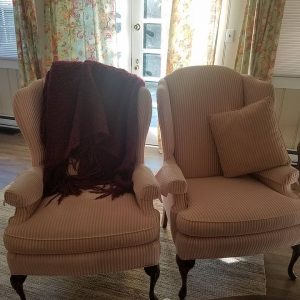 These chairs were placed right by the fireplace and right where you could chill and watch TV.  You could also watch from the bed but when we ate we watched from the chairs.
We had sparkling cider in our room when we got there.  It was complimentary because it was our anniversary.  I think people like us because we don't drink so we cut down on the cost of things.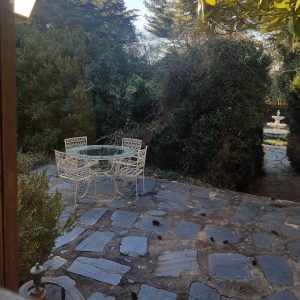 The next day we went out onto the patio that was right outside our room.  We decided to explore the grounds.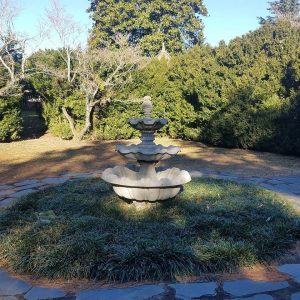 I am sure this would be so beautiful flowing with water.  When you have a January Anniversary everything is too cold for stuff like this.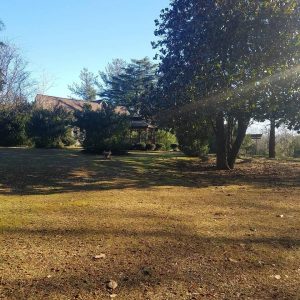 We walked in the back of the B&B and found a gazebo where weddings take place.  There are so many beautiful pictures located in an album in the living room.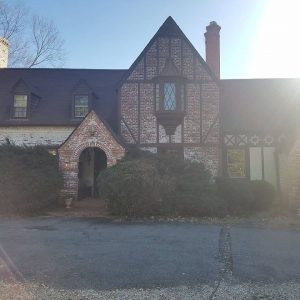 We finally came back around to the front and took a quick picture before we went off to explore Appomattox some.
So if you live in Virginia or would like to take a trip here and go to Longacre B&B I highly recommend it! It is a beautiful B&B and the price is great!  I am sure we will be going back again.  Maybe this time during warmer weather.  Stay tuned for some places we visited on our quick trip in Appomattox.
Terri