The Orb of Terra (The Jupiter Chronicles Book 3)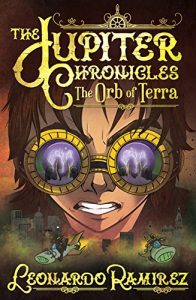 The story continues as Ian and Callie's world gets turned upside down when the Martians come to Earth. A mineral is found and given to Dr. Tesla to use for an energy source.  This mineral brings a whole lot of trouble to Earth, and a huge monster.
The Orb of Terra has a lot more action in it and a lot of uncertainties. Is Earth going to be taken over and destroyed? Will Ian, Callie and their brother Nomi be able to stop this destruction from happening? Will they live or will they die?
We read this book as a family and we have loved each book so far in the series.  Once again Leo has out done himself.  I found myself not wanting to stop reading.  My 11-year-old couldn't believe I stopped reading the book the other night just because we had to go to bed.  His words "NOOO! You can't stop there! Keep reading mom!" To be honest I did stop at a part of the book where some serious action was about to happen.
I have nothing but good things to say about this whole series.  We have gone to a whole new world with Ian and Callie.  Their adventures have become our adventures as we read The Jupiter Chronicles.
If you are looking for a book with excitement, action, humor, adventure and just plain fun to read; then I highly recommend The Orb of Terra and all the other books in the series.
You can pre-order the book (release date November 17th) at these places…
Terri