Our Favorite Pizza Dough
We were over a friend's house this past Christmas and we got introduced to this home made pizza dough.  It has become a favorite of ours.  My husband is the bread machine guy so he makes it for me 🙂  He is actually really awesome at doing any kind of breads.  Our kids normally are not happy with the store bought pizza dough so I was kind of worried that they would not eat the pizza my friend was making.  Boy was I wrong they ate a lot of pizza that night!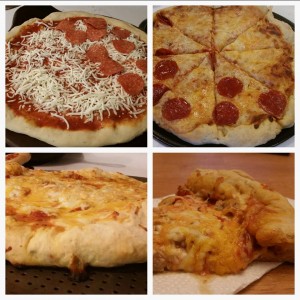 The World's Best Bread Machine Pizza Dough Recipe
Ingredients
1 1/3 cups water ( Or 1 Cup Water and 1/3 Cup Flat Beer for better flavor)
2 tablespoons olive oil
1 teaspoon sugar
1 teaspoon honey
1 1/4 teaspoons salt
2 tablespoons cornmeal
3 1/2 cups flour
1 teaspoon baking powder
1/4 teaspoon garlic powder
1/4 teaspoon onion powder
1/2 teaspoon italian seasoning
1 1/2 teaspoons yeast
Directions
Add ingredients to machine in the order listed.
Set to "Dough" mode and let the machine run through its cycle.
Once completed, place in greased pan to rise about 20-30 min, and split in half.
If you aren't going to use the dough right away, fear not. Simply divide the dough and place in ziplock bags, then stack flat to be used as needed. When the special day arrives, slap it on a cornmeal/floured surface, and roll flat, If you're fortunate enough to have a wife who doesn't mind you twirling it in her kitchen (like me — as long as I clean up my own messes) — have fun with it before going for the big-bake!
Add light layer of sauce and pre-bake your crust at 400 degrees for 5-7 minutes. Believe me–you'll want to follow this step (thank me later).
Remove from oven and add toppings of your choice.
Bake in oven at 400 degrees until done(approx 20 min, depending upon topping thickness).
Enjoy! (When you've fully enjoyed yourself, be sure to take a picture and/or leave your review–updates/comments/suggestions are welcome!)
So do you have a favorite pizza dough recipe?
Terri