Instant Pot Love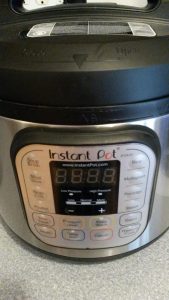 I have heard about the Instant Pot for a while now, my best friend even has one.  I have thought about getting one for a while and my husband has too.  The other day there was a sale on Amazon. So we decided what the heck, and we ordered it.
We decided to make mash potatoes in it first.  That seemed like a safe option to us. We have never used a pressure cooker before.  The potatoes took about 8 minutes.  We cooked them whole, with the skin on.  My husband peeled the potatoes then mashed them up to make mashed potatoes. Sorry there is no picture because we forgot take one.  Let's just say they were easy to make and very yummy.
Next we decided to make applesauce.  The past weekend we had gone into the mountains to see an old mill that was running.  We bought some apples from a guy in a booth that were delicious! They are called Sundance.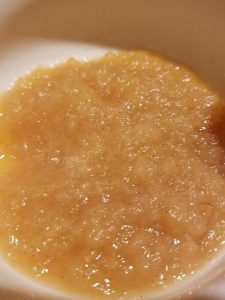 We used this recipe to make it. The recipe called for two different apples, we only had Sundance apples but that was okay.  The applesauce turned out perfect and tasted so good!
So let's just say my husband loves this pot, not going to lie so do I.  I am not the one cooking!  I don't mind cooking but it has been pretty awesome having my husband cook.  I have yet to use the pot on my own.
Last night my husband made chicken and brown rice. I was at church with my kids for Wednesday night activities so I had not eaten before church. (Okay confession time I was taking a nap and my kids had to wake me. I didn't have time to eat before we left.) I came home to an amazing dinner!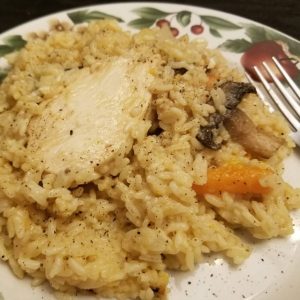 How did I get so lucky? My hubby is awesome! He has been looking up more recipes to make.  Maybe if I pretend to not know how to use it or act like I may mess it up if I use it on my own then he will continue to make dinner.  🙂
So if you haven't decided on an Instant Pot, what are you waiting for?  I have been so amazed at how fast this thing cooks and how my husband has taken over. Can't beat that.  We are both happy with it.
Do you own an Instant Pot? What are your favorite recipes?
Terri