Harry Potter…I am about to be totally honest here.
Okay, Okay, I know I am always honest with my posts but this may not please some of you hardcore Potter fans.
So we spent a fortune going to Universal Studios in Florida.  We have one son who is completely crazy about Harry Potter. This trip was mainly for him. His dad promised him at almost 3 years old if he potty trained he would go to Disney…Fast forward to him being 11 now and wanting to do the Wizarding World of Harry Potter.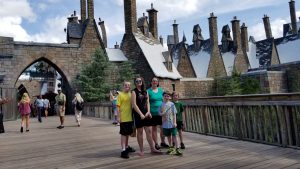 Now don't get me wrong the magic of being at the Wizarding World of Harry Potter was pretty dang cool.  It looked like you were in the movie!  The place was set up beautiful.  The whole purpose of being there was to do spells with an interactive wand that you could buy for around $60.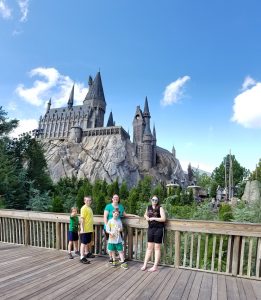 After spending a fortune on tickets I was not buying wands.  I borrowed some from three teenagers at our church who had already been.  Now this is the point where you have to be an extreme Potter fan…you find the gold circle that is on the ground, the magic words and the way you should move your wand.  You have to make something in a window move, turn on or turn off.  They all do something different.
So the very first one we get to no one could get to work.  The kids stood there watching other people try…nothing happened.  The kids all tried…well my three boys did because my daughter is not into Harry Potter. I was worried something was wrong with the wands.  We went into a shop and a guy checked them out…all seemed fine.  The guy from the shop came out to try.  He did say that this was one of the hardest spells.  He couldn't get it to work either.  Okay so not going to lie I was bored…shhhhhhh…don't tell my 11 year old.  I finally grabbed the wand from one of my boys pointed at the window, did the swish and flick of the wand and low and behold the darn thing worked! So mom is not a muggle after all. The guy from the shop came back shocked I had gotten it to work. He pretty much looked like this…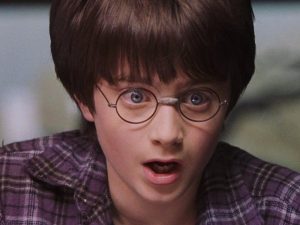 So from then on the spells were easy.  The boys went around with their dad and did all the spells they could find.  My daughter and I sat in front of a restaurant door that was open and enjoyed the cold air coming from inside. *This is why there are no pictures of them doing the spells.  Mom wasn't there to tell dad to take them.* Oops!
Soooooo, after a long time waiting for the boys to flick and swish we rode the train back to the other side of the park.  Oh yes, let's talk about the train…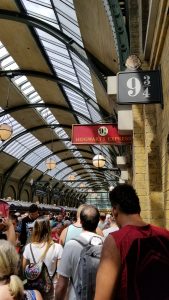 Not gonna lie it looks pretty darn awesome!  The only way you can ride the train is to have tickets to both parks.  See that? Yeah more money! They get you any way they can.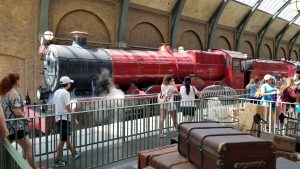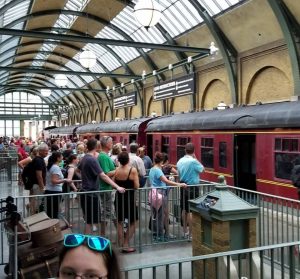 The train is pretty cool inside and out.  The only thing that bums most people out is that there are no windows.  Instead of windows there are screens that show a little movie.  It makes it look like you are traveling in the movie.  You even see the Weasley boys fly and wave at you at one point. Sorry it isn't the best photo but you get the idea.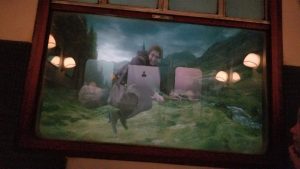 The ride is different each way.  On the doors there are screens too, but they just show shadows.  You see one of the chocolate frogs escape and you hear Ron, Harry and Hermione talking. You also see their shadows.  This is the okay direction on the train.  I honestly don't remember which park we were going too.  My kids thought that was awesome!
The second way was pretty darn scary for my younger two boys. (Ages 6 and 8) You of course see Harry and everyone again (all in shadow on the doors.) This time you also see the dementor.  You could see the panic in my boys eyes.  Yes he gets defeated but that doesn't help.  Can anyone say nightmares and kids ending up in your bed? Yes that happened! So if you have little ones I do not recommend the train.
So needless to say that will be our only trip there.  There are many more things to see at Universal but that will have to be another post. If you are a hardcore Potter fan then this is most likely still for you.
Have you been there?  What did you think? Tell me in the comments below.
Terri