Furbliss Brush (Red)
I had the opportunity to review the Red Furbliss Brush.  As soon as I got it I had to test it out and boy was my pooch happy!  Patches is a spoiled dog anyway and this just made his day.  I tested out the brush first, then my little two boys had to test it.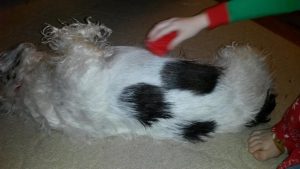 My favorite thing about this brush is that it is made of silicone.  Brushes that I have gotten in the past are the ones that are made of metal like bristles and just seem like they tear through the fur.  This one went through the fur very smooth and I am sure feels softer than the bristles on other brushes.  I also love the shape of this brush because it helps with gripping the brush when you are brushing.  It was very easy for my two boys ages 7 and 8 to hold onto.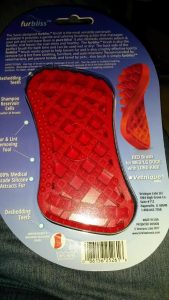 The brush was okay to clean.  The side that has the bigger teeth was easy to clean.  You just run the brush under the water and the fur came off.  As for the other side there were hairs that had to be pulled off.  I believe that is because everything on that side is closer together and makes it harder for it to be cleaned.  It does how ever do a good job of getting dog fur off of furniture.
So if you are looking for a pet friendly dog brush then I recommend Furbliss.  They come in different sizes and the sizes are in different colors.  The red is for large dogs, with long fur.  My dog is medium with long fur but this worked well for him.
You can buy this product on Chewy.com , Vetnique.com, or Furbliss.com for $16.99 but Chewy.com has it for $15.29.
*Note this is my honest opinion of the product above.  I was not paid for my review.
Terri