Nutella Croissants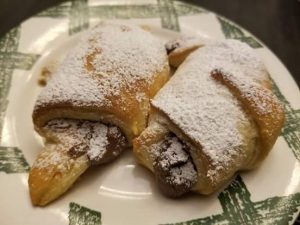 The yummiest and easiest dessert you will make. Nutella croissants!
What you need:
Croissants
Nutella
Butter
Powdered sugar
Directions:
Unroll croissants and put about a spoon full of Nutella on the croissant.  I put it on the biggest side that you roll up. I then roll it up to the small end.
I cook them by the directions on the croissant can.
Melt butter and pour a little on top of the croissants to make powdered sugar stick.
I usually sift the sugar on top. As much or as little as you like.
Enjoy the yummy goodness.
Terri